Posted by Emily Hong on
  One of the activities we miss doing during Covid would be hanging out with our friends. Catching up with each other's life, having a fresh grind cuppa coffee with a slice of scrumptious cake just makes the weekend perfect. To complete the experience, share your wonderful day on social media with the cafe's unique and beautiful aesthetics interior design. There are a few insta worthy cafes around for you to hang out with friends and family. Burrow Photo: @burrow.kl (Instagram) Photo: @burrow.kl (Instagram) Address : Burrow BSC, LOT GK12, Ground Floor, Bangsar Shopping Centre, 59000 Kuala Lumpur Hours : 7:30am - 7pm (Close...
Posted by Ask Omni on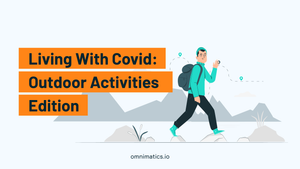 As we all know Covid has changed our lives. During this pandemic we left our normal life and did our part as a responsible citizen by staying at home. With our Trade Minister announcing that Covid will be treated as an 'endemic' around end-October there are things we can start looking forward to. Let's recall all the activities we might have lost touch with.  Connect with nature & exciting activities Being cooped up indoors might have caused many of us to lose touch with nature. Let's look at some "proper" outdoor activities; enjoy the fresh air and get our body active again....